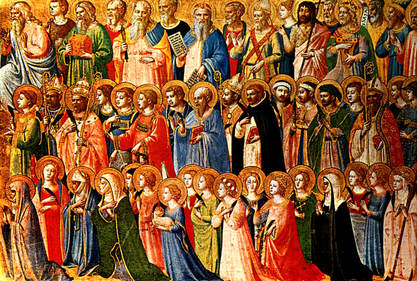 Welcome to St. Stephen's Anglican Parish Blog
for Sunday, 5 November 2017
Knowledge planted in truth grows in truth
Strength born of peace loses
nothing to hate
Aberjhani
********************************************
WORSHIP THIS WEEK
ALL SAINTS' DAY
5 November 2017
8:00 am St. Stephen's, Chester
11:00 am

St. Stephen's, Chester
4:30 pm All Saints', Canaan
Readings: Revelations 7: 9-17; Psalm 34: 1-10, 22;
1 John 3: 1-3; Matthew 5: 1-12
******************************************
ANNOUNCEMENTS
PASTORAL CARE UPDATE
A big thank you for all the Food Bank donations
on Thanksgiving Sunday!
We were also able to provide a thanksgiving dinner
for a local family.
A note to all knitters and crocheters in the congregation.
We would like to start a collection of
knitted or crocheted prayer shawls.
It's a great winter project with no deadline.
We would be happy to use up any yarn
you may have too – all donations will be gratefully received.
Patterns and materials will be made available
at the back of the church.
Please submit the names of anyone that could be
a possible prayer shawl recipient to Jess Sawler 902-273-2334.
We hope to send Fr. Ian with a few shawls
for Shoreham Nursing Home too.
For the month of November,
we will be collecting any loose change (or donations)
towards the Breakfast Program at Chester District School.
The program is offered each school day and
is available for all students.
Many children arrive with empty bellies and
greatly appreciate the healthy breakfast provided.
It is expensive to maintain this program
so please put what you can in
the jar with the school bus on it
at the back of the church.
MUSICAL FRIENDS
Mon, 6 Nov. All Welcome!
PLUM PUDDING FUNDRAISER
Plum puddings will be made on Fri, 17 Nov
and wrapped on Sat, 18 Nov.
More volunteers needed please!
Also, we need to borrow more steamer/canners.
Please contact Gretchen by phone
at 902-275-4058 or
ST. STEPHEN'S ANNUAL BAZAAR
10:30 -1:30 Sat, 25 Nov.
Lunch starting at 11:00
(Soup, desserts- Adults $8 Children under 10 $5.00)
There will be books, bake table,
wreaths, candy, Christmas Nearly New,
Crafts, Cookies
and
Plum Puddings
(small $10 large $20 )
Orders can be picked up
at the Bazaar
SHOE BOX CAMPAIGN
We are getting ready once again for
our annual Shoebox Campaign.
When ships visit the Port of Halifax
during the month of December,
we ensure each and every seafarer receives a shoebox gift.
For some this is their only gift.
This campaign continues until all the shoeboxes
are handed out. Last year 1600 boxes were handed out.
What goes into a box?
A hat, scarf, gloves or mitts,
wrapped hard candy (no chocolate),
soap, toothpaste, toothbrush, shampoo,
shaving foam, razors, deodorant and lypsyl
– or six pairs of socks, or hats or mitts in a box –
the volunteers at the Mission to Seafarers
in Halifax go through the boxes to make sure
there is a variety for everyone.
Whatever you give will be appreciated.
Drop off in Church or at the Parish Office.
******************************************
WORSHIP NEXT WEEK
THE TWENTY-THIRD SUNDAY
AFTER PENTECOST
12 November 2017
8:00 am St. Stephen's, Chester
Holy Communion
11:00 am St. Stephen's, Chester
Holy Eucharist
4:30 pm All Saints', Canaan
Holy Eucharist
Readings: Joshua 24:1-3a, 14-25; Psalm 78: 1-7;
1 Thessalonians 4: 13-18; Matthew 25: 1-13
******************************************